Cigars have become much more popular among special operations troops. This is especially true for veterans who enjoy a good stick when getting together with old teammates and friends along with a nice libation or three. But when traveling, either for pleasure or on a work-related trip, many cigar smokers face the quandary of keeping their sticks fresh. This is especially true if they are going to be gone for a couple of weeks or more. Well, the cigar humidor is the answer.
The cigar has always been one of the most recognizable objects associated with the U.S. military other than say… aviator sunglasses. Social media has helped that along, with troops sharing photos of themselves enjoying a cigar with their brothers and sisters in arms. Yes, many women now enjoy a good cigar. It is the epitome of success and power.
There are several organizations that even send fine cigars to troops deployed overseas. The troops will then send back pics, of them enjoying cigars with their unit, to be shared uploaded onto the organization's social media pages.
Truth be told, although I don't smoke as many cigars as I used to back in the day, I still love a good cigar. Depending on the situation and time, some of my (varied) favorites were always the Arturo Fuente 8-5-8, Fuente's Don Carlos, Padron 1964 Anniversary Maduro, CAO Italia, CAO Brazilia… the list goes on and on.
The Blessings of an Acrylic Cigar Humidor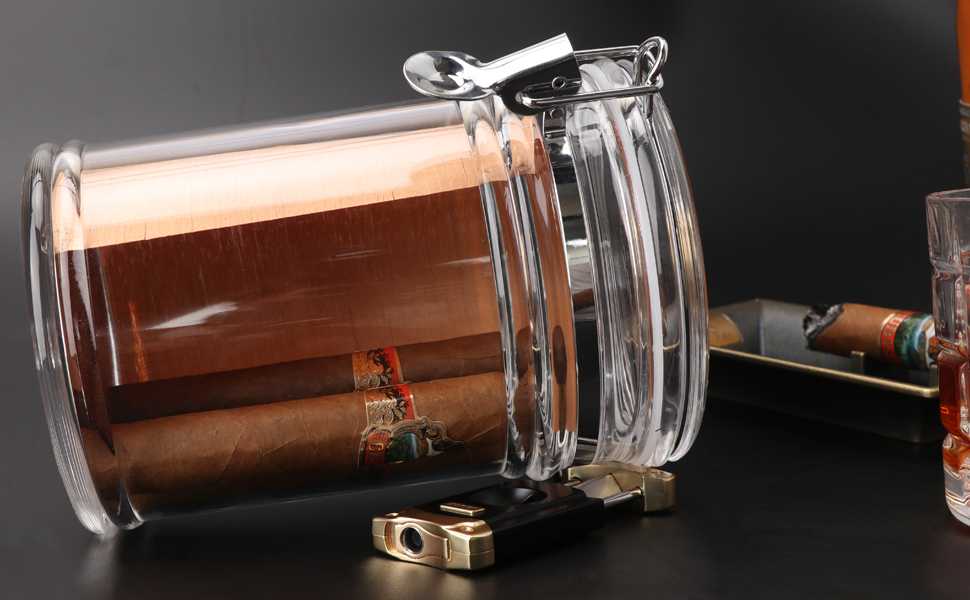 If you're looking for a great gift for your best friend or significant other, then look no further than a nice acrylic cigar humidor.
My recommendation would be the XIFEI Acrylic Humidor Jar. It is small enough to pack in a go-bag, holds between 15-20 cigars, depending on the ring size, and will keep those sticks fresh with a humidifier and hygrometer. What's more, it's very inexpensive for what it offers.
Acrylic is lighter and more durable than glass, and because it is clear, you can see what cigars are still there to be had. The lid closes shut for an air-tight seal with rubber gaskets.
The humidor houses a built-in hygrometer displaying the current humidity levels. You can control the conditions inside the jar with a cedar insert sheet and a simple, drop-in humidifier.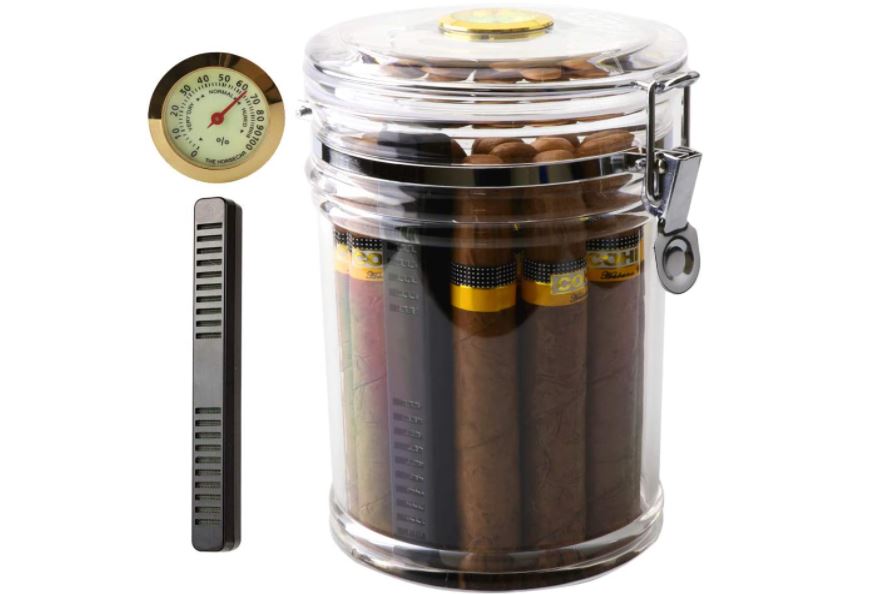 So whether you're taking a trip or just heading to a gathering place for the vets to hook up and share some quality time with each other, a cigar humidor is the perfect way to bring some good quality cigars and keep them fresh until it is time to light them up. 
While we're not promoting tobacco use (or the politically correct crowd would go nuts), after sharing the not-so-great times, cigars are (and have long been) a way to unwind with your friends. And a travel cigar humidor will increase your enjoyment without breaking the bank.
Are you listening out there, Mrs. B.? 
You can buy the XIFEI Acrylic Humidor Jar here.