What's faster, more intimidating, and has more natural talent for counter-terrorism than a trained soldier? A Military Working Dog (MWD). 
Often overlooked as simple canine companions, Military Working Dogs are a crucial component in our arsenal, especially in the age of asymmetric warfare, global terror, and counter-drug operations. And, just like the soldier-handlers they work with, Military Working Dogs are diverse. From differences in characteristics and physicality linked to their breed to the type of training they receive (and even their personalities), a Military Working Dog is not a one-size-fits-all servicemember. 
A slew of breeds has been used in the military since dogs first took to the battlefield. As recently as World War II, the Army Quartermaster Corps trained more than 30 distinct breeds for the K-9 Corps. Over time, specific breeds emerged as more effective and reliable and the list shrunk to only five core breeds: German Shepherds, Belgian Sheepdogs, Doberman Pinschers, Collies, and Giant Schnauzers. The exceptions have the incomparable Alaskan breeds — Malamutes and Huskies — which have continued to serve in arctic and other cold weather conditions. 
Modern warfare has changed the requirements needed for Military Working Dogs. Now, the majority of the canines in service are German Shepherds and Belgian Malinois. These breeds offer a special combination of loyalty, intelligence, athleticism, and aggression. Generally speaking, shepherds are the most resilient, adapting well to myriad climates and a wide array of working scenarios. Still, specialized roles require specialized traits. As a result, Retrievers, Vizslas, and even Jack Russell Terriers can be called into service.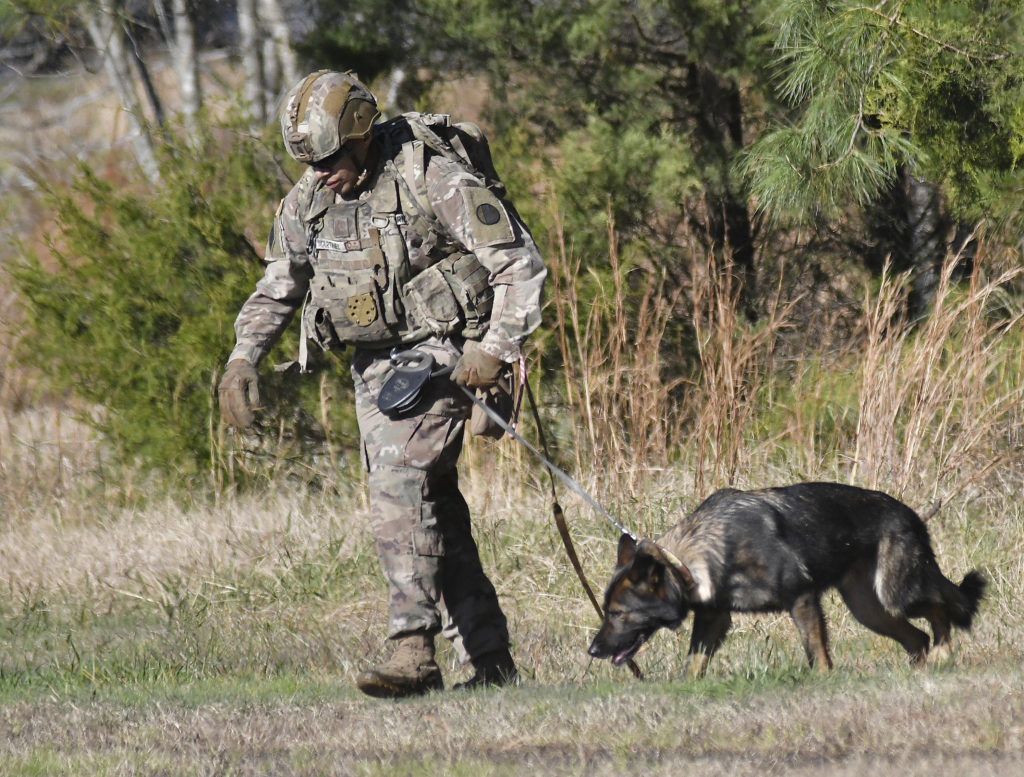 Canines generally have better eyesight and hearing than humans, but they earn their stripes through their noses. Dogs have 10 to 20 times the number of smell receptors in their noses as humans and the olfactory part of their brain is much larger proportionally. It's this superhuman ability that makes Military Working Dogs so powerful. 
But what do Military Working Dogs do? 
There are three main types of Military Working Dogs: Single-purpose, Dual-purpose, and Multi-purpose dogs. The most common are Single-purpose dogs.
Single-Purpose Military Working Dogs
As the name would suggest, single-purpose dogs are trained for one task, this is usually sniffing out explosives, narcotics, or humans (in the case of combat tracking dogs). Training for single-purpose dogs always focuses on a single output — never more — to help streamline communication between the handler and the canine. In other words, you don't want to guess whether the canine is alerting you to a brick of cocaine or an active explosive device. If you've flown in the past 20 years, you've probably seen a single-purpose Military Working Dog.  
Despite being trained for a single job, these canines carry out a number of critical functions. Single-purpose dogs are most often trained to detect specific types of explosives and devices. For example, an EDD (Explosive Detector Dog) is used across the military for standard explosive detection and is usually on-leash at checkpoints or on-call for traffic stops and inspections. MDDs (Mine Detection Dogs) on the other hand, operate off-leash and are trained to detect buried munitions and unexploded ordnance. Narcotics Detector Dogs are just like EDDs except they specialize in locating drugs.
Specialized Search Dogs go a step beyond, operating off-leash and responding to hand signals and voice commands. They are trained to locate explosives at long range. The Marine Corps has even developed a radio receiver that SSDs wear on their backs, allowing them to respond to commands via radio.  
Combat Tracker Dogs are trained to track down individuals, usually those who have come in contact with explosives or narcotics. These Military Working Dogs are highly trained and are used primarily by the Marine Corps.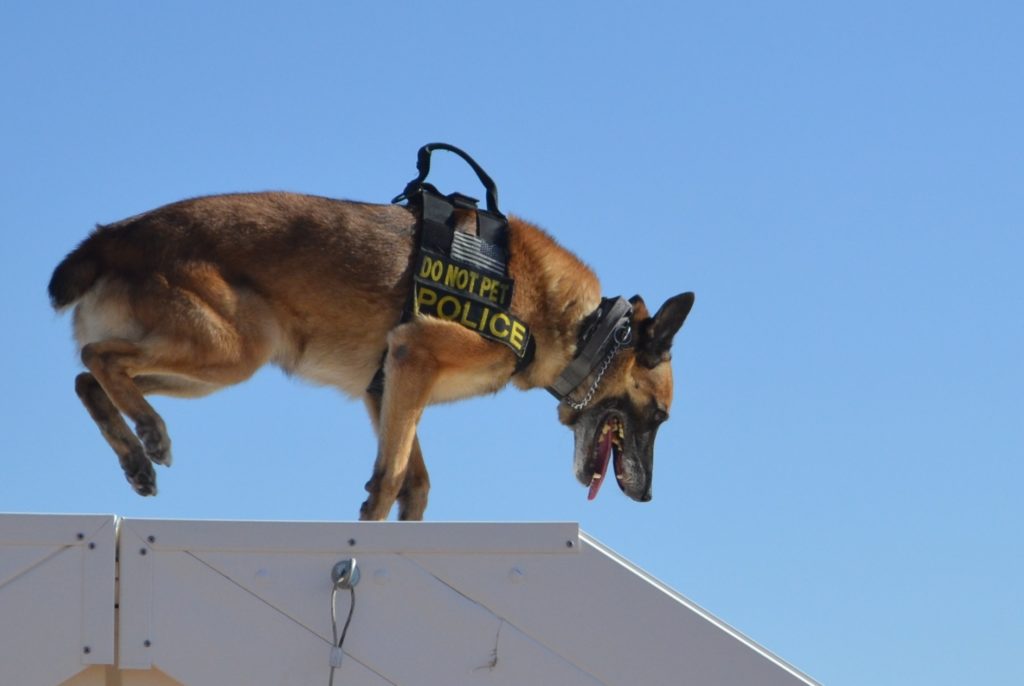 Dual-Purpose Dogs
Unlike their single-purpose comrades, dual-purpose Military Working Dogs combine their drug- or explosives-sniffing abilities with scouting skills. For these canines, functionality and ability are preferred over pure bloodlines or pedigree. The core of multi-purpose dogs is the Patrol Explosive Detector Dog or PEDD. These dogs are used by Military Police and law enforcement in every service alongside their counterpart, the PNDD, or Patrol Narcotics Detector Dog.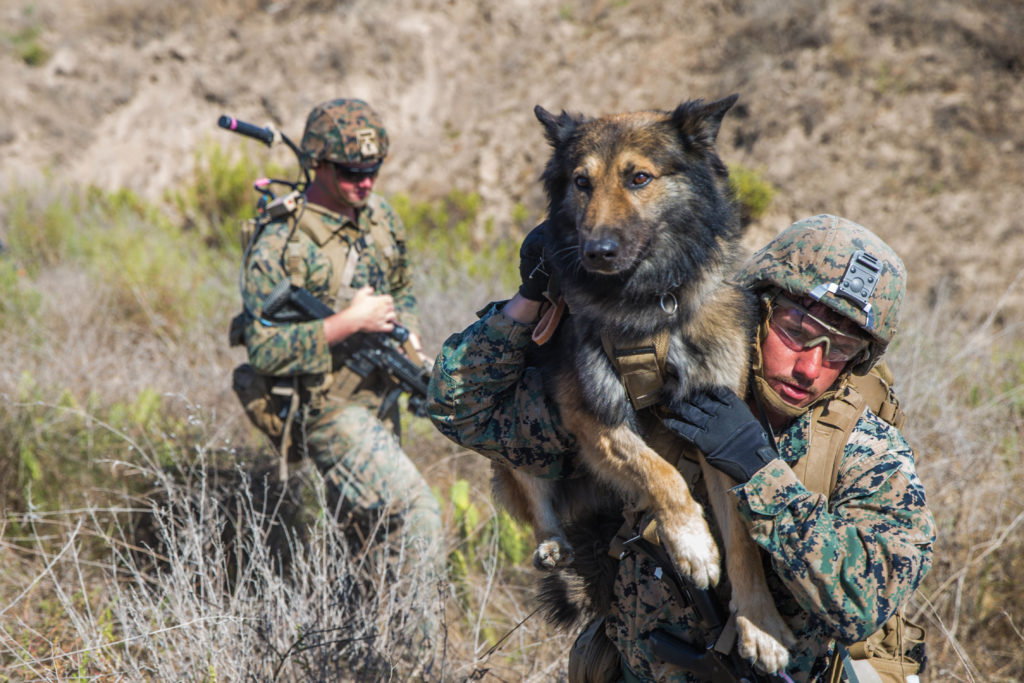 Multi-Purpose Military Working Dogs
Multi-purpose Military Working Dogs are — you guessed it — trained to carry out multiple tasks. They are typically used by Special Operations personnel and are the undisputed kings of the canine battlefield. Typically referred to as Multi-Purpose Canines, or MPCs, these dogs can do everything a single- or multi-purpose dog can but in extreme and austere conditions. MPCs train alongside their special ops handlers and are used in parachute and rappel operations. They can don tactical vests, night vision or infrared cameras, and other specialized equipment. They are unflappable, resilient sidekicks.
In 2011, Navy SEALs were accompanied by a Military Working Dog named Cairo during Operation Neptune Spear, the operation to kill Osama bin Ladin in Pakistan.
Military Working Dogs are constantly training. The military requires that dogs and their handlers are certified every year. This means months of daily training and ample bonding between the canines and their handlers before they're ready for certification. 
Earlier this month, eight Military Working Dog teams descended upon Fort Lee for their certification.
"Certification is what the Department of Defense utilizes to guarantee the effectiveness of military working dog teams in regard to detection of explosives or narcotics," 544th MP Det. kennel master Sgt. 1st Class Manuel MarinCampagne said in a recent DoD report.
But earning that certification requires perfect teamwork. This is reinforced by the rapport that the handlers have with their dogs through daily training and interaction. Experience and temperament — in both the handler and the canine — can determine whether they are successfully certified. 
"If you are not certified through the required process, you are not viewed as a reliable component and will not be utilized as such," said MarinCampagne.
"Sometimes, when you get a brand new handler coming from the schoolhouse and a brand new dog coming from the dog training school, it could take more than one time to get that military working dog certified," he added. 
"They have a lot to learn as a team."