The college football season can't begin the bowl season and playoff without first the traditional Army-Navy game. This year is set for December 11 and will be held at MetLife Stadium with a CBS broadcast starting at 3 p.m. eastern time. 
One of the oldest rivalries in college football, the two service academies will meet for the 122nd time, with the Naval Academy holding the edge 61-53-7. It is a streaky rivalry; the Navy won 14 in a row, many by a wide margin from 2002-2015. However, Army has won 4 of the last 5 contests, including a 15-0 shutout last year at West Point. 
Army (8-3) – has already clinched its second straight Commander-in-Chief's Trophy, a three-way competition between Army, Navy, and Air Force. Navy lost to Air Force 23-3 in September. The Black Knights then beat Air Force in O.T. in November. 
This Black Knights team is one of the best that Jeff Monken has fielded at West Point. They are a Top 20 scoring team and a Top 20 defense. Army averages 301.2 yards per game and over 5 yards per rush with their ground game. 
Navy (3-8) – will miss a bowl game for the second year in a row under head coach Ken Niumatalolo and their third losing season in four years. The offense, specifically their scoring offense, has been an issue, especially earlier in the season. 
While the Midshipmen have a potent running offense of their own averaging 228.7 yards per game, their passing attack has been woeful, totaling only 599 yards on the season. The Navy QBs have attempted 91 passes and completed 44 but have been sacked 29 times. 
Every year, the two teams wear customized uniforms just for the game. This year, the Army is honoring Special Forces. They will be wearing the SF crossed arrows around their neck and have a patch of Task Force Dagger and where an Army name tape would go on a camouflage uniform. They'll have the SF motto "De Oppresso Liber," as well as the Special Forces crest on the crown of their helmets.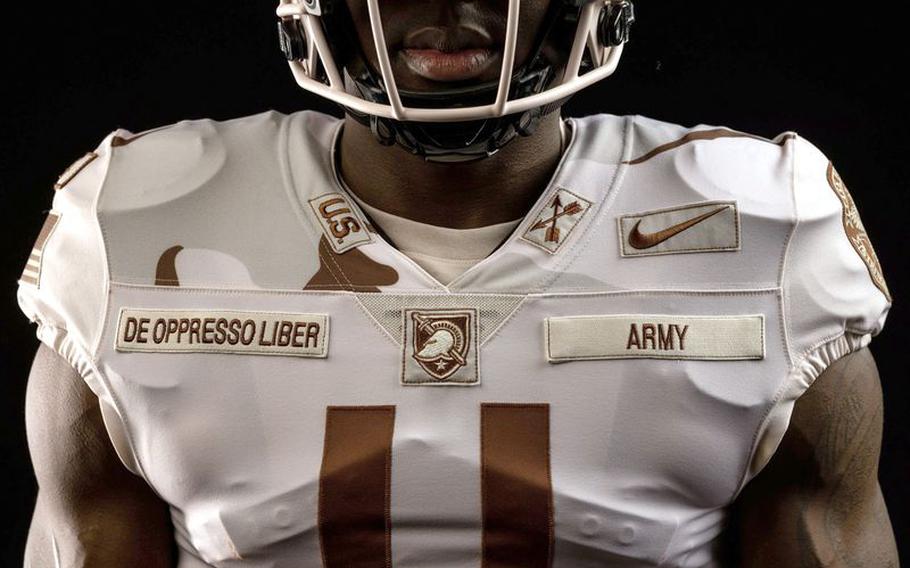 The Navy's uniform this year will be honoring the F/A-18E/F Super Hornet fighter jet. The Navy's website says about the uniforms, "Using one of the most famous naval career paths as an inspiration, the 2021 'Fly Navy' uniform highlights classic American symbolism and the most utilized multirole fighter jet in aircraft carrier aviation, the F/A-18E/F Super Hornet… the Super Hornet will remain the backbone of the carrier air wing well into the future."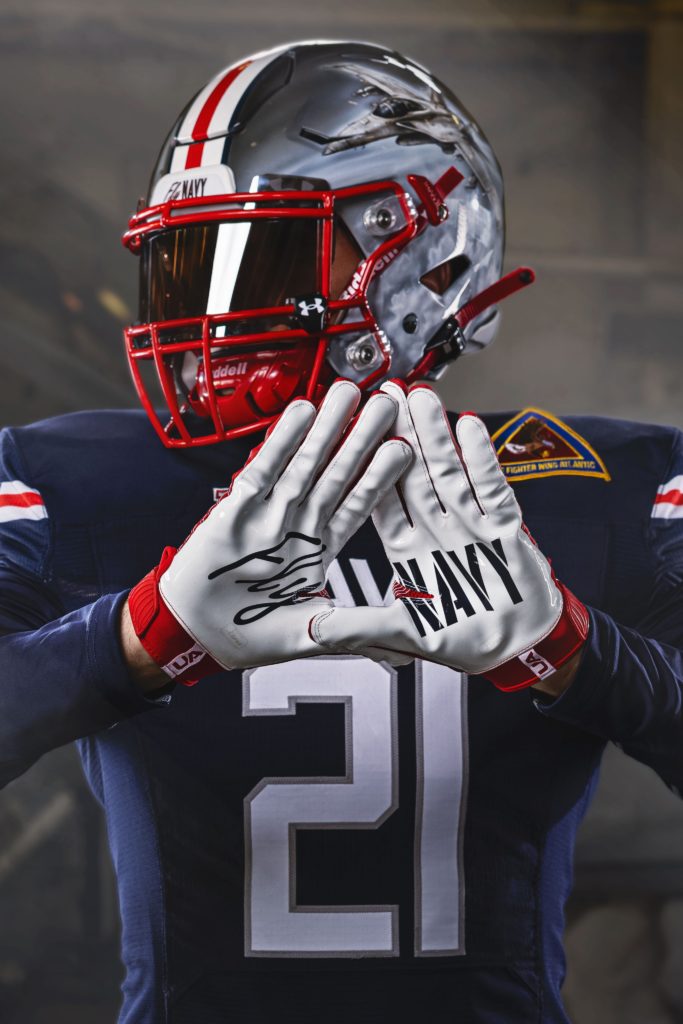 So, let's look at some of the key matchups:
When Army Has The Ball – Advantage Army:
The Black Knights running game is their bread and butter, and it all funnels through QB Christian Anderson, a dual-threat QB who is the team's leading passer and the second leading rusher with 519 yards, an average of 5.9 yards per rush, and six touchdowns. Army's leading rusher is running back Tyrell Robinson, who has carried the ball 89 times for 582 yards (9.9-yard average), with a long of 87 and three touchdowns. Army has four players with over 400 yards rushing. 
The Black Knights throw the ball even less than the Midshipmen do, having only passed 85 times but have nearly double the yardage (1030 yards) with 10 TDs and 3 INTs. Army QBs have only been sacked six times. Their biggest threat in the passing game is Isaiah Dalton, who has caught 18 passes for 384 yards (21.3-yard average) with 3 TDs. 
But it comes down to the running game. Neither of these teams is going to air it out; they live or die by the running game. Army's rushing attack was superb in 2021, rushing for 3313 yards, a 4.9 yard average with 43 rushing touchdowns. If the Navy is going to keep this a game, they have to slow down the Army's rushing attack.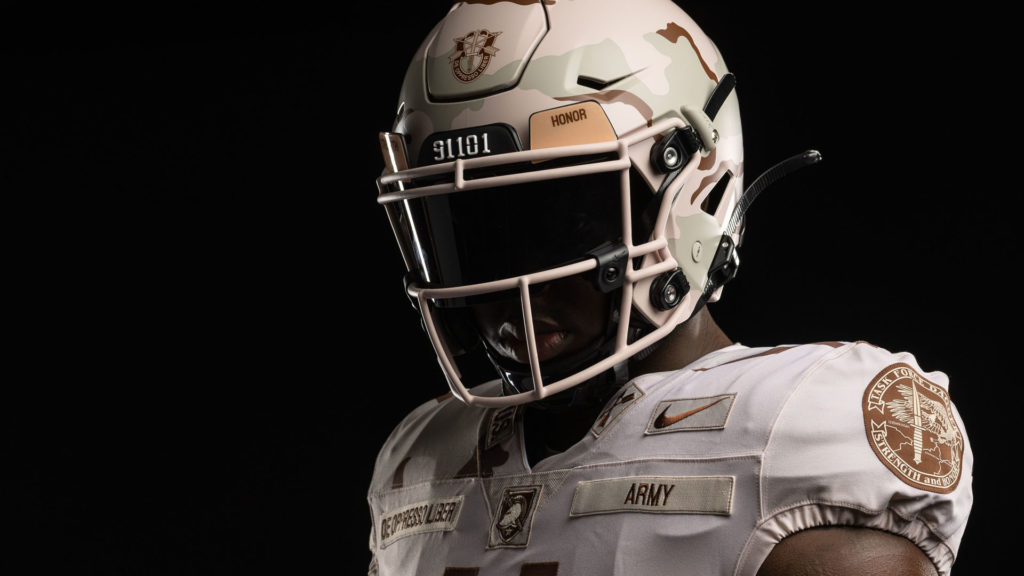 That will require a total team effort, but their big guy at stuffing the run is #54, linebacker Diego Fagot. In the past three years, he has 11 tackles for a loss in 2021 and has 34 TFL. The Middies need a huge game from him on Saturday. However, their rush defense has been good, allowing just 131.6 yards per game. 
Army has averaged scoring 35.5 points per game, while Navy is allowing 29.6 points per game. If the Knights get anywhere close to that, it may be another long after for Navy. 
When Navy Has The Ball – Advantage Army:
The Midshipmen have a good running game of their own, pounding the rock for 229 yards per game. Navy has two good fullbacks who can carry the pile, the chew, and the clock. Isaac Ruoss has carried 157 times for 608 yards (3.9-yard average) with 5 TDs. Carlinos Acie has carried 57 times for 546 yards (9.6-yard average), with two TDs. 
Navy's QB is Tai Lavatai, who has completed 54.5 percent of his passes with 5 TDs and 2 INTs. But he has a penchant for being sacked a lot, as have all of Navy's QBs. Lavatai has also rushed for 309 yards on 150 rushes (just a 2.1-yard average), with 5 TDs. Navy's most productive receiver is Chance Warren, with 10 receptions for 157 yards and 3 TDs. He has also been productive in the running game with 242 yards and a score.  
The Midshipmen need their big FBs to keep Army's defense on the field. Army has allowed only 103.7 yards per game on the ground. And like Navy, they have a big run stuffer, junior linebacker Andre Carter II. Carter is a big, athletic 6'7, 250-pound outside linebacker who has played outstanding for the Knights. A year ago, he was playing around 260, but this year, he lost some weight to improve his speed and conditioning. This year, he doesn't have to come out as much. Carter has logged 15 tackles for loss, 13.5 sacks, 4 forced fumbles, and an interception. 
This one, like every year, comes down to who can be more physical, control the tempo and the line of scrimmage, and most importantly, finish drives by running the football. The Army is favored by 7.5 points. The over/under for this one is just 33, and it tends to go with the under every year.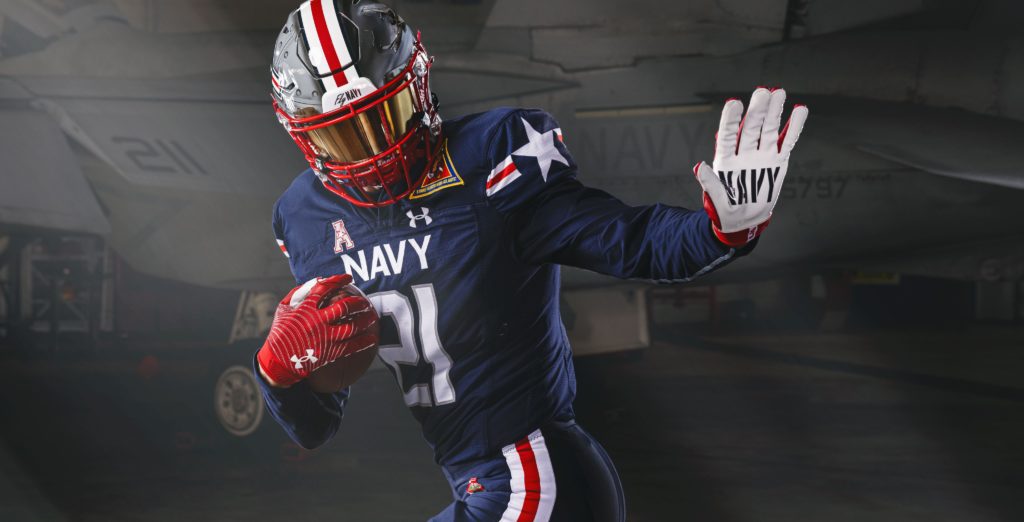 But this one has a little different vibe to it. Although, as the old saying goes, "you can throw out their records" for this huge rivalry game, Army has a superior unit this year. Look for it to be close for a half and then the Black Knights ground game to eat the Navy up. Army 24-10
This rivalry is unique in that upon graduation, all of the players then join the same team. Some of the Army troops may find themselves in a tough spot somewhere in the world, and a Navy pilot will fly ground support missions for them. That's where the rivalry may be bitter on the field but is full of respect off of it. 
Go Army, Beat Navy.