Melvin Morris was a Green Beret in the 5th Special Forces Group who was awarded the Medal of Honor for his actions against Communist forces in Vietnam on September 17, 1969. 
Originally awarded a Distinguished Service Cross, the Defense Authorization Act mandated that the military look at the actions of African-Americans, Jewish-Americans, Hispanic-Americans, and other minority veterans from World War II, the Korean War, and the Vietnam War to ensure that no prejudice was shown to those deserving the Medal of Honor. Morris's award was therefore upgraded to the Medal of Honor.
Morris was born in Okmulgee, Oklahoma, on January 7, 1942. In an interview with American Battlefield Trust, Morris described the limited opportunities available to him back in those days. 
"I come from Oklahoma, a place called Okmulgee, capital of the Creek Nation. There wasn't much going on there in the '50s, no work to speak of. My first was job was working at the bowling alley; I think I made 65 cents an hour. I said, 'No, this isn't going to cut it.' And my brother and I both went into the military because the National Guard was recruiting minorities."
After a year in the National Guard, Morris switched to the active-duty Army in 1960, volunteered for Airborne duty, and then joined Special Forces in 1961. 
The Mike Forces
In September 1969, Morris, then a staff sergeant, was the commander of the Third Company, Third Battalion of the IV Mobile Strike Force near Chi Lang.
The Mobile Strike Force, known as the "Mike Force," was created and advised by Special Forces troops as well as Australian SAS. The Mike Forces were staffed with indigenous peoples, pulled from the Civilian Irregular Defense Group (CIDG), and Nungs, people of Chinese descent. At its height, Mike Forces consisted of Bahnar, Hmong, Nung, Jarai, Khmer Krom minorities, and other members of the Degar peoples, also known as Montagnards.
The Mike Force companies mission was to act as a country-wide quick reaction force for securing, reinforcing, and recapturing CIDG  Special Forces "A Camps," as well as for conducting special reconnaissance patrols. Search and rescue, and search and destroy RT missions were also assigned to the units. 
No Man Left Behind
On September 17, 1969, Morris's combined Special Forces/Mike Force team was supporting South Vietnamese troops near Chi Lang when they discovered a large cache of food and weapons the North Vietnamese Communists had smuggled over the Cambodian border.
Defending the cache was a large number of North Vietnamese Army (NVA) troops who quickly opened fire. Another Green Beret team leader was killed while assaulting an enemy bunker. When informed of this by radio Melvin Morris immediately moved his men forward and, with two volunteers, crawled through a minefield to recover his fallen comrade.
They had just reached the killed SF soldier when the NVA hit them with intense, accurate fire. The two men with him were immediately wounded. Under heavy fire, Morris aided the two wounded troops back to a defensive position. He gathered up 20 hand grenades, ran back into the heavy enemy fire, and set about neutralizing the Vietnamese strong points. Morris destroyed four enemy bunkers with grenades and recovered the killed Green Beret before returning for a map case containing classified information. 
During the pitched fighting, Melvin Morris was wounded three times in his chest and right arm. He took cover behind a tree and was pinned down for over two hours. Eventually, a helicopter dropping explosives on the enemy distracted them long enough for Morris to make it back to his unit. 
"There was automatic weapons fire. I can't remember too many human voices," Morris said in an interview with the Army's website. "I remember looking at my watch once and the next time I looked at it, it was in the evening. This started in the morning."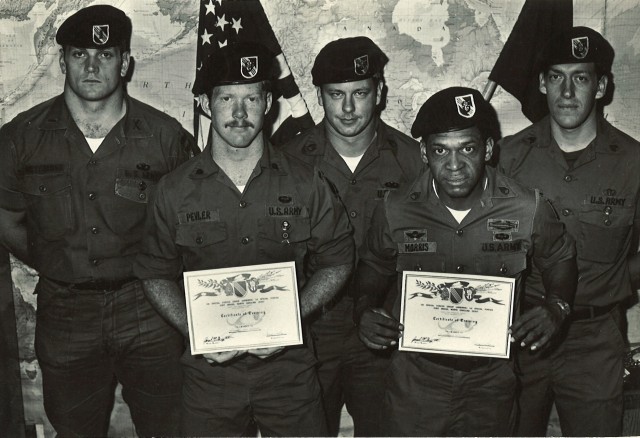 After spending a week in a field hospital, he was flown to Japan, where he was hospitalized for three months before returning to the United States. He was awarded the Distinguished Service Cross, the second-highest award for valor in the U.S. military in April 1970. A month after receiving the DSC, Morris returned to Vietnam for a subsequent tour of duty. He retired from the Army in 1985 as a sergeant first class.
In 2013, Morris was informed that a lengthy review of recipients of the Distinguished Service Cross had determined that he should have received the Medal of Honor instead.
In March 2014, President Obama awarded the Medal of Honor to Melvin Morris as well as Jose Rodela another Green Beret from Vietnam. 
In the interview with the American Battlefield Trust, Morris reflected on the day he was at the White House and the responsibility he feels in educating American youth. 
"On March 18, 2014, I went to the White House and received the Medal of Honor from President Obama. And it was an exhilarating feeling, I just can't describe," he said. "But I told myself that now, I've got a lot of work ahead of me because I have a message to share. Young children need to know that people are out there putting their lives on the line for them every day." 
"That's what I do today; I go out and I give living history. I talk to students and the people about our heritage, about our military, and about why they should learn about history. We have to honor our heroes, regardless of their race, color, creed, ethnicity. I have made educating the people my life's task."
Melvin Morris's Medal of Honor Citation
"Staff Sergeant Melvin Morris distinguished himself by acts of gallantry and intrepidity above and beyond the call of duty while serving as Commander of a Strike Force drawn from Company D, 5th Special Forces Group (Airborne), 1st Special Forces, during combat operations against an armed enemy in the vicinity of Chi Lang, the Republic of Vietnam on September 17, 1969.

On that afternoon, Staff Sergeant Morris' affiliated companies encountered an extensive enemy minefield and were subsequently engaged by a hostile force. Staff Sergeant Morris learned by radio that a fellow team commander had been killed near an enemy bunker and he immediately reorganized his men into an effective assault posture before advancing forward and splitting off with two men to recover the team commander's body.

Observing the maneuver, the hostile force concentrated its fire on Staff Sergeant Morris' three-man element and successfully wounded both men accompanying him. After assisting the two wounded men back to his forces' lines, Staff Sergeant Morris charged forward into the withering enemy fire with only his men's suppressive fire as cover.

While enemy machine gun emplacements continuously directed strafing fusillades against him, Staff Sergeant Morris destroyed the positions with hand grenades and continued his assault, ultimately eliminating four bunkers.

Upon reaching the bunker nearest the fallen team commander, Staff Sergeant Morris repulsed the enemy, retrieved his comrade, and began the arduous trek back to friendly lines. He was wounded three times as he struggled forward but ultimately succeeded in returning his fallen comrade to a friendly position.

Staff Sergeant Morris' extraordinary heroism and selflessness above and beyond the call of duty are in keeping with the highest traditions of military service and reflect great credit upon himself, his unit, and the United States Army."